Store, Town, City: Book Cultures in East Asia
Florence Fu
Florence Fu 傅曦瑶 is a writer, researcher, and designer from New York, currently based in Chicago. She is pursuing an MA in Humanities at the University of Chicago. Her research focuses on 20th and 21st century visual and material culture from Japan, Taiwan, and South Korea. She is also a Graduate Curatorial Intern at The Smart Museum
She holds a B.A. in art history and a B.S. in journalism from Northwestern University, and is a graduate of Type West's yearlong type design program. She is a contributor to Letterform Archive, Sharp Type Co.
AIGA Eye on Design
, and
Communication Arts
.
–––––––––––––––––––––––––––––––––––––––––––
In 2011 my local bookstore closed and was replaced by a designer wholesale shoe store. This foreshadowed a domino effect of bookstores nationwide permanently shuttering their doors. It was an unexpected death, followed by a period of mourning for my family who ritualized going to the bookstore — a practice that my parents brought with them after immigrating from Taipei to New York in the 1990s. After dinner on Saturday, we drove to the bookstore and stayed until last call at 11pm. Once we passed through the doors, there was an unspoken agreement that we would each go our separate ways. I learned that the bookstore was a space to safely and freely chart our individual journeys of exploration. My mother frequented the travel section to get glimpses of the world's highlights for family vacations. My father who enjoyed puzzling with strategy and logic was drawn to books about Bridge and philosophy.

My sister sought humor and relief from teenage life in comics. I found myself in the art and design section, flipping through fashion sketches and absorbing images of iconic silhouettes for a career I formerly dreamed about. After several years, as bookstores continued to close around me, the concept faded from my routine, and then from my memory. Leisure time was substituted by suburban malls and movie theaters, and book-buying by Amazon.
Ten years later, I moved to Taipei for a few months in 2021. Leading up to my departure, I was taking online Mandarin classes and my teacher asked me, "What is the first place you want to go to when you visit Taiwan?" When I replied "誠品書店 (Eslite Books)", I was met with a pause of silence, surprise, and laughter all in one beat. It's true, I told her, that Eslite was my favorite place in the world where I felt most comfortable with myself. Everyday I counted my blessings that I could walk to the 24-hour Eslite within three minutes, and to the next closest one in eight.

Taiwan's publishing and bookstore industries have undergone significant changes in the span of one century. During the Japanese colonial period, cultural assimilation policies swiftly snuffed out Chinese language and literature. In the post-colonial period, Chinese publishers and books were welcomed again, and the first generation of Taiwan publishers began in the 1980s. Bookstores also changed. Eslite, one of Taiwan's most successful book chains, was founded by The Eslite Group launched in 1989, redefined the bookstore experience, and arguably had a hand in shaping Taiwan's reading culture. The bookstore existed alongside other stores including music, fashion, craft, lifestyle, food, and more. But what makes Eslite unique is its policy that allows readers to curl up without pressure to buy. In Taipei, bookstores are a proud form of nightlife, and I felt pleased to revive my family ritual — wandering in the very same bookstores my parents did during their 20s. Despite the fact I couldn't fluently read in Chinese yet, I could explore in peace with my Pleco dictionary in one hand, and a book in the other. Late into the evening, I was alongside people of all ages, singles, couples, and children all finding their own peace and place, faces buried in other worlds.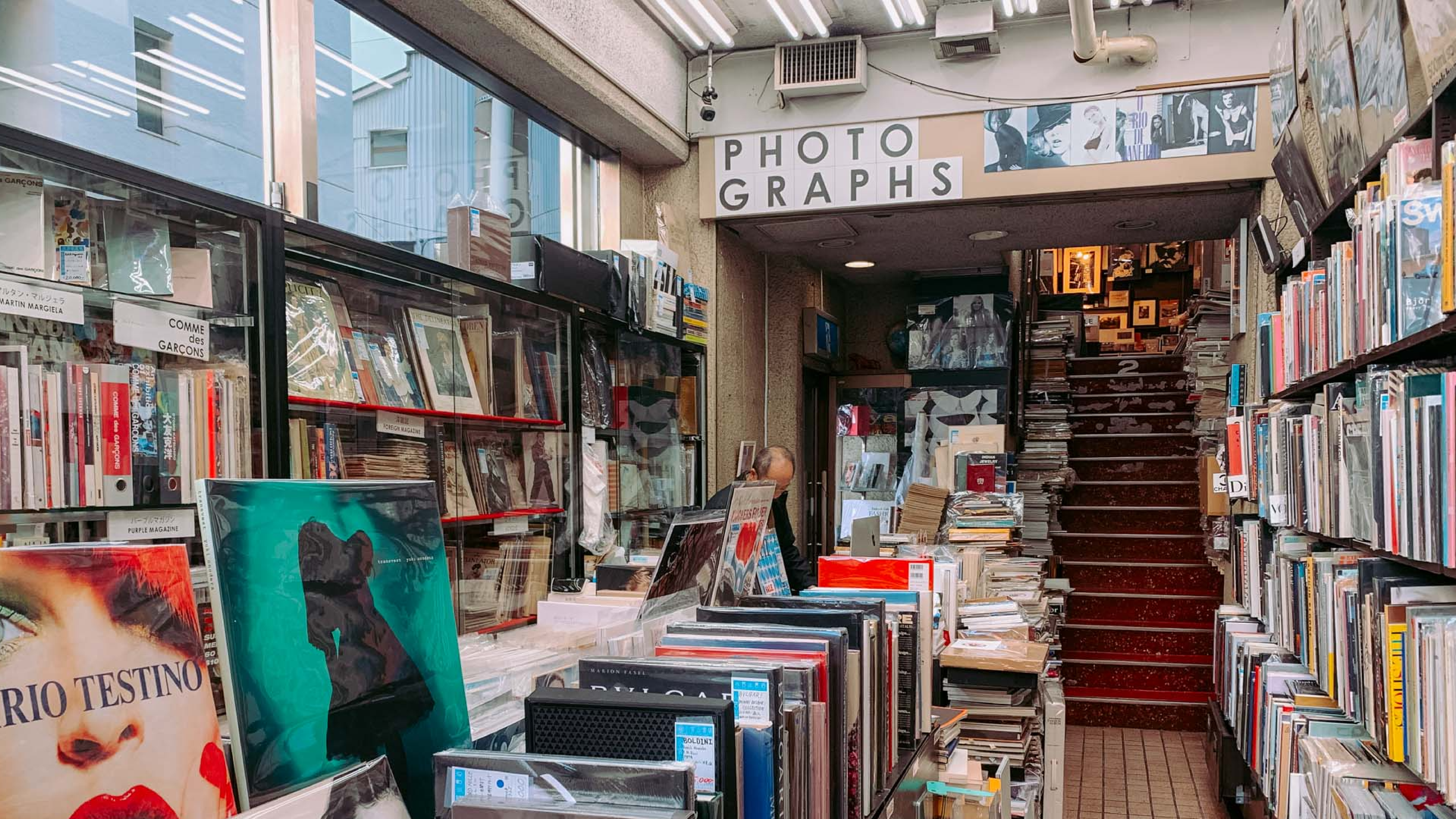 When clusters of bookstores group together, they make up a booktowns, which is a concentrated area with used or antiquarian book stores. Jimbocho in Tokyo is one of the world's oldest and largest booktowns with over 400 stores. Going through Jimbocho is like a collector's rite of passage. On my first journey in 2019, I was armed with a marked-up map and a discerning eye to dig for unexpected treasure. I arrived with a mission and a small budget to find unique books about Japanese graphic design and typography — both for my workplace and for my modest but growing personal collection. After winding in and out of shops, inhaling the fragrance of old books, crouching and tiptoeing at tightly packed shelves, pulling and flipping through books one after another, I resurfaced proudly with my prized selections.

Located right next to the Imperial Palace, during the Edo period Jimbocho was a predominantly residential neighborhood for daimyo samurai who were temporarily visiting the capital on alternate attendance. By the mid-19th century during the Meiji period, these samurai residences began to be replaced with institutions such as hospitals, schools, and universities — transforming Jimbocho from an elite neighborhood to a bustling intellectual center, with students, authors, and thinkers frequently coming in and out of the area. Specialized books in law, economics, medicine, linguistics, were in great demand but difficult to acquire and costly to purchase, which led to students on a budget to partake in a ritual of their own to buy and sell second-hand books that would get passed down through generations. A handful of bookstores founded in the Meiji Era also became renowned publishers that helped connect and support modern Japanese novelists whose stories soon swept the globe.


Beyond the booktown, there exists a bookcity in one of the most digitally connected countries. PajuBookcity in South Korea was established in 1989 as a special economic zone, to reinvent Korean publishing, architecture and urban planning.1 While Jimbocho gradually defined itself over centuries, Bookcity was intentionally planned to be smartly designed and branded in collaboration with designers, architects, and publishing companies. The area boasts over 250 publishers housed in stylish, contemporary buildings and has a ratio of around 20 books to one individual.

One of Bookcity's founders stated that the "the city aims to recover the lost humanity." Establishing Bookcity outside of Seoul was motivated as much by political reasons as cultural ones. Like Taiwan, South Korea was formerly a Japanese colony and the capitals of Taipei and Seoul both succumbed to intervention and redefinition both during and post-colonialism. Edwin Heathcote describes that Bookcity was "a reaction to the rapacious redevelopment of Seoul, the loss of the city's historic fabric and its rapid embrace of the culture of bigness and congestion."
2
Over the decades the cultural center has expanded to include a constellation of institutions that value the art and craft of the printed word including book cafes, libraries, galleries, and more. Of note are Paju Typography Institute (PaTI), an alternative design school founded by Ahn Sang Soo and Bookcity Letterpress Museum, a reminder of Korea's pioneering history in metal moveable-type printing.
Every so often, the evolution of digital and electronic media has been used to speculate that print may be dying or already dead. In the US, contrary to the fate of bookstores predicted a decade ago, during the pandemic b
ook sales have boomed
and have been up 13% year over year. In 2021, at least 172 new independent bookstores opened.
3
At a time when almost no individual nor industry seemed untouchable by COVID's wrath,the persistence and revitalization of bookstores defied expectations. In East Asia too, independent bookstores, whose specialty lies in curation and taste for niche communities, continue to open. While it's undeniable that patterns and platforms continue to change cultures of reading — from portable, lightweight digital e-books to quickly, snackable smartphone webtoons — the precious physicality of the printed book, the experience and community centered around the shelves, the book store, town, and city will continue to be part of our personal imagination and cultural fabric.
---
1 Shannon Mattern, "Paju Bookcity: The Next Chapter" Places Journal, January, 2013.

2 https://placesjournal.org/article/paju-bookcity-the-next-chapter/

3 https://www.bloomberg.com/news/features/2022-03-28/bookstores-tap-nostalgia-for-borders-barnes-nobles